Costa Viola
(Tra Scilla e Cariddi – Il mito di Ulisse)
"All'ingresso dello Stretto di Messina vivevano due creature mostruose di nome Scilla e Cariddi. Ogni giorno, e per tre volte al dì, Cariddi ingurgitava acqua con tutto ciò che in essa si trovava, inghiottendo anche navi che si avventuravano nei suoi paraggi. Sulla sponda opposta viveva un altro mostro, che divorava i marinai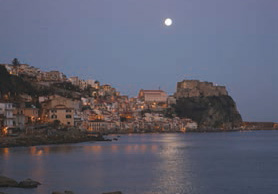 esattamente nello scoglio di Scilla". Ancora oggi, tra Scilla e Cariddi è possibile osservare i vortici e le forti correnti che rendono la navigazione difficoltosa e, questo luogo, un mito. Da Scilla e dallo splendido borgo marinaro di Chianalea, si snoda la Costa Viola caratterizzata dai terrazzamenti con muretti a secco (armacie) nei quali si pratica la coltura dei vitigni eroici, fino ad arrivare al promontorio del S.Elia, da dove è possibile godere di un panorama mozzafiato. Lungo la Costa Viola si pratica la caccia al pescespada secondo le antiche tecniche, a bordo delle "passerelle", imbarcazioni dotate di un lungo pontile e di un albero di oltre 30 m. E' possibile poi godere di meravigliose spiagge tra le quali Cala Janculla, inserita tra le spiagge più belle d'Italia, e la spiaggia di Palmi con lo Scoglio dell'Ulivo. I fondali riproducono scorci marini tropicali che è possibile ammirare praticando immersioni o anche solo snorkeling. In questo territorio è possibile anche riscoprire le testimonianze lasciate dall'antico popolo dei Taureani che si spinsero dalla Costa Viola fino all'Aspromonte, passando per Oppido antica.
Cosa fare:
Il Mare: E' possibile vivere da vicino l'esperienza del mare, navigando lungo la Costa Viola, assistendo alla tradizionale pesca del pescespada a bordo delle passerelle, praticando immersioni subacquee e snorkeling.
Trekking: Tra Palmi e Bagnara Calabra si articola un sentiero panoramico denominato Tracciolino che rappresenta uno fra i percorsi di trekking più belli e suggestivi di tutta la regione. Un ulteriore percorso di ha inizio sopra Bagnara e conduce fino al "Tunnel militare di Murat", una suggestiva grotta scavata a 40 metri dal mare.
Percorsi enogastronomici: E' possibile visitare i vitigni eroici, costruiti su terreni in forte pendenza, e godere di una visita guidata e degustazione del tipico vino Costa Viola IGT. Una curiosità del territorio è la monorotaia, un sistema di trasporto che serviva a facilitare la coltiva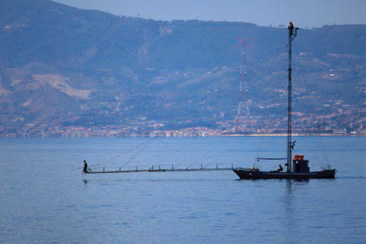 zione e raccolta della vite nei vitigni eroici, che viene utilizzata anche a scopi turistici.
Da non perdere:
Borghi: Il borgo marinaro di Chianalea con le case che sfiorano il mare.
Risorse naturali: Le grotte di Tremusa a Melia di Scilla, di natura fossilifera (fossili della conchiglia del genere Pecten) risalenti al periodo pliocenico.
Enogastronomia ed artigianato artistico: Vino della Costa Viola IGT e Scilla IGT; limone sfusato di Favazzina; Torrone di Bagnara IGP e prodotti dolciari tipici; pesce spada; pane di Pellegrina; Ceramiche di Seminara e Pellegrina di Bagnara; Liuterie artigianali.
Eventi: La Varia di Palmi (patrimonio immateriale Unesco), festa popolare che si ripete con cadenza pluriennale da oltre 400 anni nel mese di agosto.
Costa Viola
(Between Scylla and Charybdis - The myth of Odysseus)
"At the mouth of the Strait of Messina there lived two monsters named Scylla and Charybdis. Every day, and three times a day, Charybdis gulped down water with all that was in it, swallowing even ships that ventured in its vicinity. On the opposite shores there lived another monster, who devoured the sailors, exactly in Scylla's rock".
Even today those whirlpools and strong currents between Scylla and Charybdis still exist, presenting considerable difficulties for navigation but preserving also the myth of this place. From Scilla and its adjacent magnificent maritime hamlet of Chianalea, the Costa Viola meanders its way along terraced slopes with dry stone walls (armacie) on which are cultivated the heroic vines, vitigni eroici, that deserved their denomination thanks to the difficult terrain they are growing on. The promontory of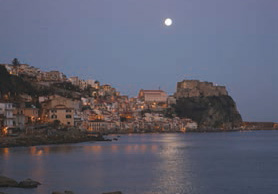 S. Elia is overlooking this scenery and will let you enjoy a breathtaking panorama. Along the Costa Viola swordfish is hunted using traditional techniques, practiced on board of fishing boats which are equipped with the so-called passerelle, long gangplanks, and a mast over 30 m high. You will discover and enjoy marvelous beaches such as Cala Janculla, among the most beautiful beaches of Italy, and Palmi Beach with its lonesome olive tree on an isolated rock, named Scoglio dell'Ulivo. The ocean floor depicts the wonders of a tropical marine world which can be admired diving or
snorkeling. But also above sea level is more left to discover, like the remnants left behind from the ancient civilization of the Taureani who pushed from the Costa Viola into the Aspromonte, passing the ancient Oppido.
What to do:
Sea: You can get in direct touch with the sea: sailing along the Costa Viola, watching the traditional fishing of swordfish on board on the gangplanks or practicing scuba diving and snorkeling.
Trekking: One of the numerous panoramic trails in this area, between Palmi and Bagnara Calabra, is called Tracciolino and is one of the most beautiful and suggestive trekking routes in the whole region. A further route begins above Bagnara and leads to the Tunnel militare di Murat, an impressive cavern excavated at 40 meters from the sea. Journey into Calabrian flavour: You can explore the heroic vineyards built on steep slopes following a guided tour and participating in a degustation of the typical Costa Viola IGT wine. A curiosity of the territory is the monorail, a transport system that was used to facilitate the maintenance and harvesting of the heroic vineyards, but is today also used for tourists.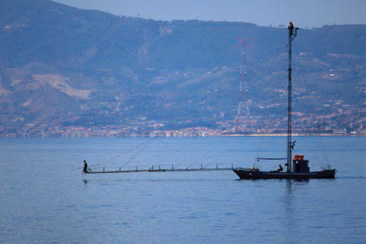 Not to be missed:
Hamlets: The seaside village of Chianalea with its houses that touch the sea.
Natural resources: the Caverns of Tremusa in Melia di Scilla, made of fossilized King Scallop shells dating back to the Pliocene Epoch.
Calabrian flavour and craftsmanship: Wine of the Costa Viola IGT and Scilla IGT; Torrone (nougat) di Bagnara IGP and typical confectionery; swordfish; regional bread of Pellegrina; pottery of Seminara and Pellegrina di Bagnara; artisan luthier's workshops.
Events: La "Varia di Palmi" (UNESCO Intangible Cultural Heritage), a famous catholic festival that has been celebrated every year for over 400 years in August.
Siti culturali/Cultural sites:
Castello di Scilla / Historical Castle
Indirizzo / Address
Piazza S.Rocco - Scilla
(+39) 0965 704422
scilla.asmenet.it/index.php?action=index&p=244
Da lunedì a domenica/From
monday to sunday: 9.30-13.30
15.00-19.00
Biglietti / Tickets
da 10 a 70 anni / from 10 to 70
years old: € 2,00
Casa della Cultura di Palmi / Art gallery and museum
Indirizzo / Address -
Via F. Battaglia - Palmi
Come arrivare / Getting here
In treno / by train:
stazione di Palmi / Palmi station
Autolinea urbana / City buses
(+39) 0966 262249-253
casacultura@libero.it
Da lunedì a venerdì / From
monday to friday: 8.00-14.00
giovedì/ thursday: 8.00-14.00;
15.00-18.30
Prenotazioni gruppi anche in
orari e giorni differenti / For
groups also by reservation
Parco dei Tauriani di Palmi / Archaeological Park
C.da S. Fantino, 181 - Palmi
Come arrivare / Getting here
In treno / by train:
Stazione di Palmi / Palmi station
In autobus / By bus:
PPM trasporti (www.ppmspa.it)
Partenza da Palmi / PPM trasporti
(www.ppmspa.it) from Palmi
Apertura su prenotazione /
Opening by reservation
(+39) 366 6201771
(+39) 340 4126592
fabrizio.sudano@beniculturali.it

Ceramiche di Seminara ph. Andrea Andidero