Area Grecanica
(I greci di Calabria)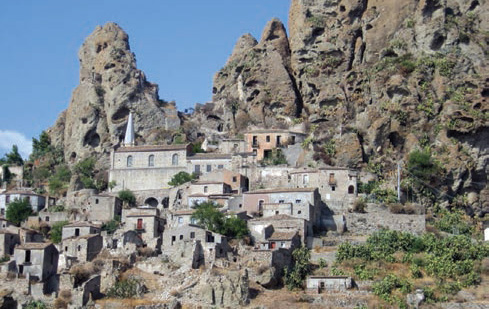 L'area grecanica, la più meridionale della Calabria, abbraccia e custodisce in sé preziose pagine di storia e cultura. I paesi sono generalmente posti ad alcuni chilometri dalla costa, per lo più arrampicati su alture una volta difficilmente accessibili, testimoni di una civiltà antichissima, quella greca. I paesi Bova, Roghudi, Chorìo di Roghudi, Gallicianò, Roccaforte, sono alcuni dei centri che devono la loro storia ai primi insediamenti di Greci in Italia e in questi territori ancora si parla la lingua greco-calabra, un mix di greco antico e dialetto calabrese. L'area grecanica, si presenta come un terreno arido, a tratti stemperato dal verde della macchia mediterranea, ma è anche la terra dove cresce il bergamotto, prezioso agrume dalle straordinarie virtù benefiche, definito "oro verde" della Calabria, conosciuto ed apprezzato in tutto il mondo.
Il territorio dei "Greci di Calabria" si affaccia sul mar Jonio con spiagge incantevoli, e continua ad essere un luogo ricco di fascino e di primitiva bellezza.
Cosa fare:
Trekking tra natura e cultura: Numerosi gli itinerari che si aprono al visitatore: le Grotte di Prastarà e la Rocca di Santa Lena con sosta e visita al borgo di Pentedattilo e la visita alla Fortezza Bizantina di S. Niceto nel territorio di Motta S.Giovanni.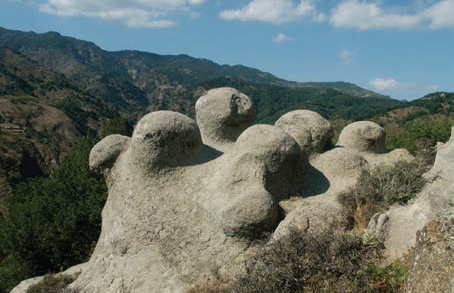 Un ulteriore percorso di grande interesse naturalistico e culturale prevede la visita al borgo di Bova, al Castello dell'Amendolea e la discesa lungo l'omonima fiumara. Da Bova è possibile visitare anche il vicino borgo di Gallicianò. Nell'area dei greci di Calabria è possibile percorrere il "Sentiero dell'Inglese", vivendo l'esperienza del viaggio descritto da Edward Lear nel "Diario di un viaggio a piedi in Calabria e nel Regno di Napoli" (1847).
Percorsi enogastronomici e artigianato: da non perdere le esperienze legate alla conoscenza del bergamotto, con la visita ai bergamotteti, ai laboratori di trasformazione per l'estrazione dell'essenza e dei succhi, alle botteghe artigiane per la lavorazione della buccia, accompagnati da un viaggio nelle antiche tecniche di lavorazione, con la degustazione dei prodotti tipici a base di bergamotto. Raccomandata anche la degustazione dei salumi tipici grecanici prodotti con il suino nero di Calabria, i formaggi prodotti con il latte caprino e la visita ai vitigni ed alle cantine dei produttori del vino Palizzi IGT, con degustazione del prodotto.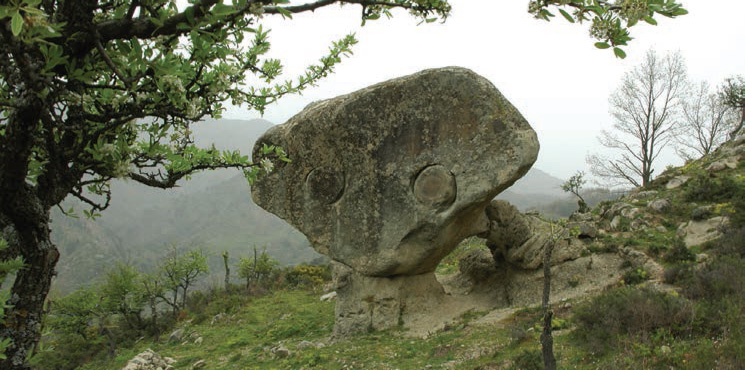 Nell'area grecanica è possibile degustare la Lestopitta, impasto fritto di farina e acqua con la forma di una piadina che viene consumata calda e farcita e l'antico pane greco che ha come ingredienti farina di jermanu (segale) e mavrafaci (lenticchia nera di Bova), cotto nel forno a legna comunitario.
Da non perdere:
Borghi: Bova, comune che, ubicato a novecento metri di altitudine, può fregiarsi del marchio di qualità territoriale di Borgo più Bello d'Italia. L'influenza greca è presente ancora nella cultura bovese, in particolare l'antico idioma greco-calabro, curato e mantenuto in vita attraverso numerose attività culturali e folcloristiche. Tra le cose da visitare in questo sito non può mancare il Museo della lingua greca Gerhard Rohlfs studioso tedesco il quale, fin dal 1924, sostenne l'origine magnogreca della parlata che ancora vive in questi luoghi e il Museo di Paleontologia, dove sono esposti un gran numero di esemplari fossili, circa 15.000, concernenti faune e flore calabresi. Gallicianò, antico borgo ormai quasi disabitato nel quale tutti parlano l'antica lingua greco-calabra.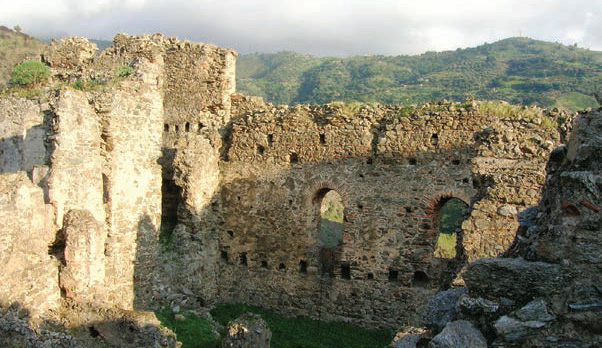 Pentedattilo uno fra i più noti piccoli e talvolta quasi disabitati borghi grecanici; noto al pubblico anche grazie all'importante festival itinerante "Paleariza", evento della cultura grecanica ed al "Pentedattilo Film Festival", festival internazionale di cortometraggi. Roghudi vecchio, borgo disabitato, più noto come "borgo fantasma" sulle pendici dell'Aspromonte. Palizzi Superiore, antico borgo nel quale si erge il Castello costruito su una mastodontica rocca. È stato dichiarato Monumento Nazionale dal Ministero dei Beni Culturali.
Risorse naturali: Fiumara Amendolea; Spiaggia di Brancaleone - area di nidificazione delle le tartarughe caretta caretta; Caldaie del Latte e Rocca del Drago (Roghudi).
Enogastronomia ed artigianato: Prodotti a base di Bergamotto; miele; salumi e formaggi dell'area grecanica; vino di Palizzi IGT; Lestopitta; pane greco; liquori. Tessuti artigianali.
Eventi: Festival itinerante "Paleariza", evento della cultura grecanica noto nel panorama internazionale. "Pentedattilo Film Festival", festival internazionale di cortometraggio.
The Calabrian Greece or Bovesia
(The Greeks of Calabria)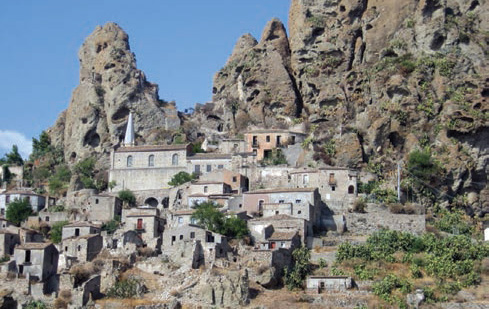 The southernmost part of Calabria, called Calabrian Greece, holds and preserves precious chapters of history and culture. You will find ancient Greek villages to testify to the origins of their ancient Greek civilization usually sited in the hinterland, clinging on high rocky fastnesses once difficult to capture, overlooked from the southern slopes of the Aspromonte which are rugged by natural spurs and ravines. Bova, Roghudi, Chorìo of Roghudi, Gallicianò, Roccaforte are some of those towns that owe their historical past to the first Greek settlements in Italy. One of the remnants that outlasted history in these territories is the Grika-language, an idiom composed of ancient Greek and Calabrian dialect. The different shades of this arid brown soil are only sometimes attenuated by green spots of the marquis shrubland and don't reveal at first sight that the "green gold" of Calabria is cultivated in this area, the Bergamot Orange, a precious citrus fruit with extraordinary beneficial properties, known and appreciated all over the world. The territory of the "Calabrian Greeks" overlooks the Ionian Sea with enchanting beaches and is still a place full of charm and natural beauty.
What to do: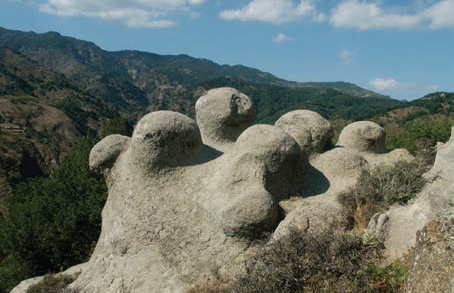 Trekking between nature and culture: Numerous itineraries are waiting to be explored: the caverns Grotte di Prastarà and the cliff Rocca di Santa Lena with a break in the village Pentedattilo or a trip to the Byzantine Castle of Sant' Aniceto within the territory of Motta S. Giovanni. Another route with naturalistic and cultural points of attraction includes a visit of the village Bova, the Castle of Amendolea with the descent along the homonymous fiumara. Starting from Bova you will also have the occasion to visit the nearby village Gallicianò. Just as well you can ramble the trail "Sentiero dell'Inglese", following on the heels of the English writer and painter Edward Lear, as he Cawrote down in the "Journals of a landscape painter in southern Calabria and the Kingdom of Naples" (1847).
Journey into Calabrian flavour and craftsman ship: You should not miss the chance to explore the typical culinary products and to visit the local
production sites: the Bergamot Orange, with a visit of the Bergamot plantations, a trip to the laboratories for the extraction of the essence and juices, artisan workshops for the manufacturing of the peel, accompanied by a journey through the ancient manufacturing techniques, tasting the typical products based on bergamot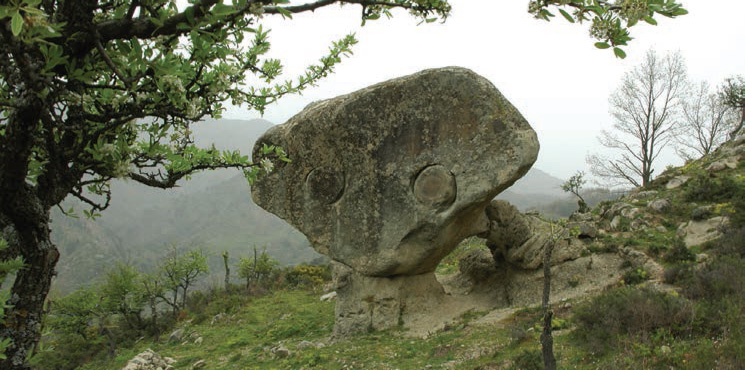 and not to forget the tasting of the typical Greek cured meats produced with the black pig of Calabria and a visit to the vinyards and cellars of the producers of Palizzi IGT wine, which, of course, will be offered for degustation. Another culinary specialty of the Calabrian Greece is called Lestopitta, a kind of fried and stuffed wrap, or the ancient Greek bread made of ingredients as jermanu flour (rye) and mavrafaci (black lentils of Bova), cooked in the communal wood oven.
Not to be missed:
Hamlets: Bova, sited at nine hundred meters in elevation, can boast the territorial quality status of Borgo più Bello d'Italia. Today the Greek influence is still present in the Bovesian culture, embodied in form of the ancient Greek- Calabrian idiom passed on and kept alive through numerous cultural and folkloristic activities. Among the sites to visit you should not miss the Museum of the Greek Language Gerhard Rohlfs dedicated to German scholar who endorsed the ancient Greek origins of this parlance already in 1924. Another museum rich in archaeological values is the Museum of Paleontology with a large array of around 15.000 fossils describing the Calabrian fauna and flora. Gallicianò, an ancient almost abandoned village, but where the remaining inhabitants still practice the ancient greek calbrian languace. The little hamlet Pentedattilo, sometimes almost completely uninhabited, is one of the best known Greek villages for its important traveling festival "Paleariza" celebrating the Greek culture and due to the "Pentedattilo Film Festival", an international festival for short films.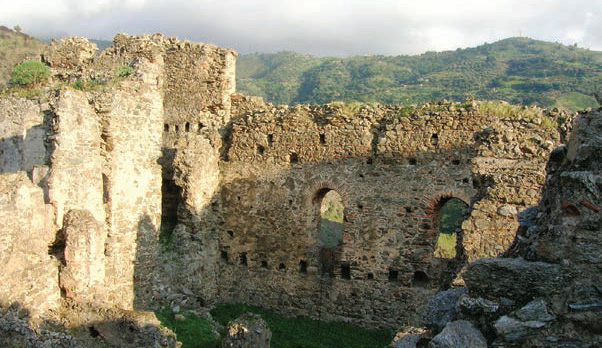 The "ghost town" Roghudi Vecchio blended into the slopes of the Aspromonte massif. Palizzi Superiore, an ancient village clustered on a steep cliff with a castle erected on a gigantic rock. It has been designated National Monument by Italy's Ministry of Cultural Heritage.
Natural resources: Fiumara Amendolea; beach of Brancaleone - nesting area of the loggerhead sea turtle; rock formations Caldaie del Latte and Rocca del Drago (Roghudi).
Calabrian flavours and craftsmanship: Products based on Bergamot Orange; honey; charcuterie from the Bovesian territories; Palizzi IGT wine; Lestopitta; Greek bread; liqueurs; handcrafted fabrics.
Events: "Paleariza", a traveling festival and popular event of Greek culture, internationally known; "Pentedattilo Film Festival", an international short film festival.
Siti culturali/Cultural sites:
Museo della lingua greco – calabra Gerhard Rohlfs / Museum
Indirizzo / Address
Via S.Antonio - Bova
(+39) 0965 762013
(+39) 346.8512461
museolinguagrecanica@libero.it
www.comune.bova.rc.it
www.museogerhardrohlfs
Biglietti / Tickets € 1,00
Mattina / Morning
Lunedì-mercoledì-giovedì-venerdì /
Monday-wednesday-thursday-friday:
8.30-12.30
Martedì / Tuesday: 8.30-13.30
Sabato-domenica/ Saturday-sunday:
10.00-13.30
Pomeriggio / Afternoon
Mercoledì / Wednesday: 14.00-18.00
Giovedì-venerdì-sabato-domenica /
Thursday-friday-saturday-sunday:
15.00-18.00
Museo di Paleontologia e Scienze Naturali dell'Aspromonte / Museum
Indirizzo / Address
Via Rimembranze- Bova
(+39) 346 8520920
(+39) 0965 762013
museodipaleontologia@libero.it
www.comune.bova.rc.it
Biglietti / Tickets
€ 2,50
Per gruppi superiore a 20 persone
biglietto ridotto / For groups of more than 20
persons reduced ticket: € 1,00
Mattina / Morning
Lunedì-mercoledì-giovedi-venerdi /
Monday-wednesday-thursday-friday:
8.30-12.30
Martedì / Tuesday: 8.30-13.30
Sabato-domenica / Saturday-sunday:
10.00-13.30
Pomeriggio / Afternoon
Mercoledì / Wednesday: 14.00-18.00
Giovedì-venerdì-sabato-domenica/
Thursday-friday-saturday- sunday:
15.00-18.00
Museo, Parco archeologico Archeoderi, Sinagoga Bova Marina /Archaeological Museum and Park
Indirizzo / Address
Fondo San Pasquale - Bova
Marina
(+39) 348 2368919
(+39) 344 0300673
pm-cal.archeoderi@beniculturali.it
www.beniculturali.it
www.sinagoga-archeoderi.it
Biglietti / Tickets € 3,00
Gratuito per i minorenni/
Martedì-mercoledì-venerdì-sabato /
Tuesday-wednesday-fridaysaturday:
9.00-14.00 14.30-17.00
Giovedì / Thursday: 8.00-14.00
Domenica su prenotazione / Sunday
on reservation chiusura settimanale:
lunedì chiuso / Monday closed

Vigneti di Palizzi

Pentedattilo Ceramiche artistiche