La Costa Jonica
Un tuffo nella storia
La costa jonica, si estende per circa 120 km ed è animata dalle foci delle fiumare che scendono dall'Aspromonte e conserva molteplici e interessanti testimonianza della Magna Grecia. I colonizzatori greci , infatti, dettero vita ad una fiorente civiltà che trovò il suo centro perfetto lungo questo tratto di costa con le antiche colonie di Locri Epizefiri e Kaulon.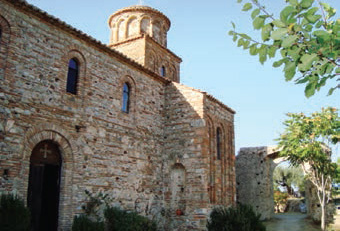 Successivamente anche l'epoca bizantina ha segnato la storia di quest'area lasciando tracce della sua cultura nei numerosi luoghi di culto ancora molto frequentati. In questi luoghi castelli, monasteri, villaggi arroccati incontrano una terra dominata dal mare.
Cosa fare:
Mare: La costa Jonica offre al turista ampie spiagge con intense gradazioni di azzurro e blu e la trasparenza dei suoi incredibili fondali. Tra le località più rinomate Roccella Jonica, bandiera blu anche per il 2018, con un qualificato approdo portuale. Lungo la costa si susseguono numerose spiagge, da Siderno a Locri, a Bianco fino ad arrivare alla spiaggia di Riace, luogo di ritrovamento dei famosi Bronzi custoditi nel Museo Archeologico Nazionale di Reggio Calabria
Trekking: La costa jonica, offre la possibilità di effettuare percorsi di trekking tra natura e cultura: di grande fascino i percorsi lungo lo Stilaro, con la possibilità di visitare le cascate del Marmarico e giungere a Bivongi per la degustazione del vino a DO e per visitare l'antico Monastero Ortodosso di San Giovanni Therestis.
Percorsi enogastronomici: Numerose le risorse enogastronomiche che è possibile degustare visitando le aziende del territorio: dal vino passito Do Greco di Bianco che prevede l'appassimento dell'uva al sole su appositi graticci, alla produzione della Do Bivongi, così come alla produzione dell'olio extravergine tipico della locride, prodotto con le olive geracesi.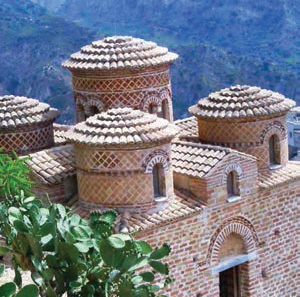 Dal territorio della locride è possibile risalire lungo la fiumara del Torbido per arrivare a Mammola e degustare lo stoccafisso. Da degustare il tipico pecorino della Locride e con il gustoso caciocavallo di Ciminà, formaggio piccolo, allungato, con la presenza di due testine. Il prodotto è riconosciuto quale "Presidio Slow Food".
Da non perdere:
Borghi: Gerace, con le sue 100 chiese, è considerato uno dei più bei borghi della Calabria. Il centro storico consente di ammirare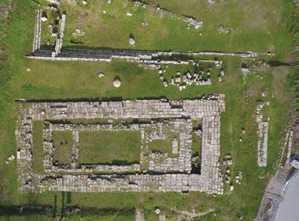 gli antichi stili architettonici Gotico, Bizantino, Normanno e Romanico, e anche Opere d'arte che ne testimoniano l'importanza. Tra le meraviglie da non perdere la cattedrale e la chiesa di S. Francesco. Aperte alla visita dei turisti le botteghe artigiane con le tipiche lavorazioni della ceramica.
Riace: Il borgo dell'accoglienza. Sono circa un migliaio gli immigrati accolti dalla popolazione locale, che supportati da politiche sociali sono stati inseriti nel mondo del lavoro, contribuendo allo sviluppo dell'economia del borgo ed al recupero di antiche tradizioni quale quella legata alla lavorazione della ginestra.
Risorse naturali: Monte Tre Pizzi tra il comune di Antonimina, noto per le sue terme, e il comune di Ciminà. Enogastronomia e artigianato: Olio di oliva della Locride; vino Greco a DO e Bivongi a DO, Locride IGT; pecorino della Locride; caciocavallo di Ciminà; preparazioni enogastronomiche con carne ovina e caprina. Ceramiche e tessuti artigianali.
Eventi culturali: Festival jazz di Roccella Jonica; Kaulonia Tarantella Festival (festival nazionale di musica popolare)
The Ionian Coast
A plunge into history
The Ionian Sea bathes around 120 km. This scenery is brought to life by outlets of rivers that pour down from the Aspromonte massif, hiding interesting testimonies of the Magna Graecia.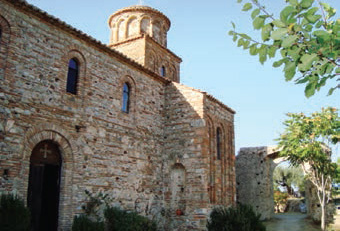 The Greek colonizers developed a thriving civilization that found its perfect core along this coastal stretch within the ancient colonies of Locri Epizephyri and Kaulon.
Subsequently history was written under Byzantine dominance that left its traces in this area in many cult sites, still popular today. Here he ruins of ancient castles, monasteriess, abandoned hamles, meet a land dominated by the sea.
What to do:
Sea: The magnificent Ionian shores offer wide beaches with intense shades of blue, from turquoise to ultramarine, intensified by the unbelievable limpidity of their waters. Among the most famous coastal strips you will find Roccella Jonica, decorated with the Blue Flag Award also for 2018 and with a qualified port dock. Numerous beaches are located along the coast, from Siderno to Locri, to Bianco, to the beach of Riace, the finding place of the famous Greek Bronzes kept in the National Archaeological Museum of Reggio Calabria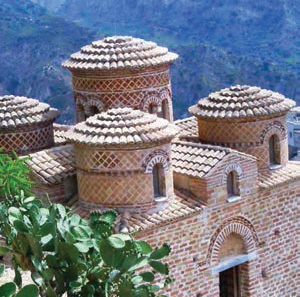 Trekking: Discover the Ionian trekking routes between nature and culture: fascinating trails immerged in the valley of the Stilaro, where you can see the waterfalls of Marmarico, make a detour to Bivongi for the degustation of wine "a DO" (wine with a protected designation of origin) or visit the ancient Orthodox Monastery of Saint John Theristis'.
Journey into Calabrian flavour: Several traditional specialties can be sampled visiting the local companies: the straw wine Do Greco di Bianco which requires the grapes being dried in the sun on appropriate straw mats, going over to the production of Do Bivongi, or learning about the production of extra virgin olive oil of the Locride area, produced with olives from Gerace. Having explored the territory of the Locride, you can climb your way back along thefiumara Torbido to arrive in Mammola and savour dishes with stockfish. Not to be missed a degustation of the typical pecorino della Locride, made of sheep's milk, and the tasty cheese caciocavallo, a small, long cheese, with two heads. The product has been decorated a "Slow Food Presidium".
Not to be missed:
Hamlets: Gerace, with its 100 churches, is considered one of the most beautiful villages of Calabria, where the houses still show their ancient Gothic,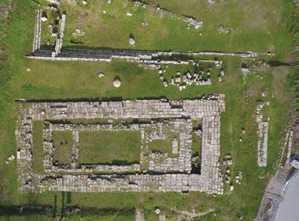 Byzantine, Norman and Romanesque architectural styles, as well as artistic values of historical and cultural importance. Among the marvels not to miss are the cathedral and the Church of S. Francis. Artisan workshops with typical pottery will receive you cordially.
Riace is also known as hamlet of hospitality. Around a thousand immigrants had been accommodated by the local population, and with the support of social policies they have been integrated in the world of work, contributing in that way to the economic development of the of the village and the recovery of ancient traditions such as that linked to the processing and manufacturing of Scotch broom.
Natural resources: Monte Tre Pizzi between the municipality of Antonimina, known for its thermal baths, and the municipality of Ciminà.
Calabrian flavour and craftsmanship: Locride olive oil; Greco a DO e Bivongi a DO wines, Locride IGT; pecorino from Locride; Caciocavallo of Ciminà; culinary specialties with sheep and goat meat. Pottery and handcrafted fabrics.
Cultural events: Roccella Jonica Jazz Festival; Kaulonia Tarantella Festival (national folk music festival)
Siti culturali/Cultural sites:
La Cattolica di Stilo / Historical Byzantine Church
Indirizzo / Address
Via Cattolica - Stilo
(+39) 371 3455490
info@visitstilo.it
www.cattolicadistilo.it
Biglietti / Tickets
Intero / Full: € 3,00
Ridotto / Reduced: € 1,50
Da aprile a settembre / From april to
september:
da lunedì a domenica / from monday
to sunday 8:00-20:00
Da ottobre a marzo / From october
to march:
da lunedì a sabato / from monday to
saturday 8:00-18:00
Giorni festivi / Holidays:
12:00-18:00
Museo e Parco Archeologico dell'Antica Kaulon / Archaeological Museum and Park
Indirizzo / Address
C.da Runci - Monasterace
(+39) 0964 735154
(+39) 340 0742442
pm-cal.Kaulon@beniculturali.it
info@museoarcheologicomonasterace.it
www.museoarcheologicomonasterace.it
Biglietti / Tickets
Intero/full: € 3,00
Ridotto / Reduced: € 1,50
Da martedì a domenica / From
tuesday to sunday: 9.00-20.00
Lunedì chiuso / Monday closed
Prima domenica di ogni mese
ingresso gratuito /
First sundays of the month are
free
Il Parco è visitabile fino ad un'ora
prima del tramonto
Museo e Parco Archeologico Nazionale di Locri / Archaeological Museum and Park
IIndirizzo / Address
Contrada Marasà, Locri RC
(+39) 0964 390023
Biglietti / Tickets
Intero / Full: € 4.00
Ridotto / Reduced (cittadini
UE tra i 18 e i 25 anni /
UE Citizens from 18 to 25
years old): € 2.00
Da martedì a domenica / From
tuesday to sunday: 9.00-20.00
Lunedì chiuso / Monday closed
Da maggio a ottobre: aperto anche il
lunedì / From may to October: also
open on Monday
Prima domenica di ogni mese
ingresso gratuito
First sundays of the month are free
Villa del Naniglio Gioiosa Jonica / Roman Villa, Archaeological Park
Indirizzo / Address
Area esterna al centro storico
Gioiosa Jonica
(+39) 0964 51536
www.beniculturali.it
Museo di Palazzo "Teotino Nieddu del Rio"/ Museum
Indirizzo / Address
Corso Vittorio Emanuele
Locri RC
(+39) 0984 795639
Biglietti / Tickets
Intero/full: € 3,00 Euro
Ridotto / Reduced (cittadini UE
tra i 18 e i 25 anni /
UE Citizens from 18 to 25 years
old): € 1,50 Euro
Da mercoledì a venerdì From
wednesday to friday: 9.00 -14.00
sabato e domenica/ saturday and
sunday: 9.00-20.00
Lunedì e martedì chiuso / Monday
and tuesday closed
Prima domenica di ogni mese
ingresso gratuito
First sundays of the month are free
Cattedrale di Gerace / Historical Cathedral
Indirizzo / Address
Via Duomo - Gerace
(+39) 0964 356323
Tariffe speciali per le scuole /
Special rates for schools
Tutti i giorni / Everyday:
dalle 9.30 alle 13.00
dalle 15.00 alle 18.30
Biglietti / Tickets
Intero/full: € 2,00
Per gruppi superiore a 20 persone
biglietto ridotto /
For groups of more than 20 persons
reduced ticket : € 1,50
Museo, Parco Archeologico, Palazzo "Nieddu del Rio" Locri / Archaeological Museum and Park & Museum
Biglietto unico / Single ticket
Intero / Full: € 6.00
Ridotto / Reduced (cittadini UE
tra i 18 e i 25 anni /
UE Citizens from 18 to 25
years old): € 3.00
Gratuito / Free entrance:
UE fino a 18 anni / UE up to 18
years old - Docenti, Guide turistiche,
altri / Teachers, Tour Guides, others
Prima domenica di ogni mese /
First sundays of the month
Villa Romana di Casignana / Roman Villa
Indirizzo / Address
S.S. 106 Jonica, Km 82 - Contrada
Palazzi (Casignana)
Come arrivare / Getting here
In treno / by train:
Stazione più vicina / Nearest station
(3 Km) Bovalino o / or Bianco
(+39) 0964 1910888
(+39) 347 6719975
protocollo.casignana@asmepec.it
Da lunedì a venerdì / From
monday to friday:
9.00-13.00 17.00-19.30
Sabato e domenica/ Saturday
and sunday: 17.00-19.30
Mattina su prenotazione /
Morning by reservation
Biglietti / Tickets
€ 3,00

Tre Pizzi Ente Parco Aspromonte ph. Enzo Galluccio